Dear bear friends:
I could hardly keep still! Miss Cynthia and Doctor Steve were taking too long to get ready. Tonight, we would visit Radio City Music Hall. We would see the Christmas show. I was dancing with impatience as Miss Cynthia combed her hair one more time.
"Aren't we ready yet?" I asked. I wanted to see the dancing, and hear the singing!. Most of all, I wanted to see if I could spot Santa Claus! If we could only get out of this hotel room!
Miss Cynthia fussed around me. "Here, Perry," she said, "I got you a present!"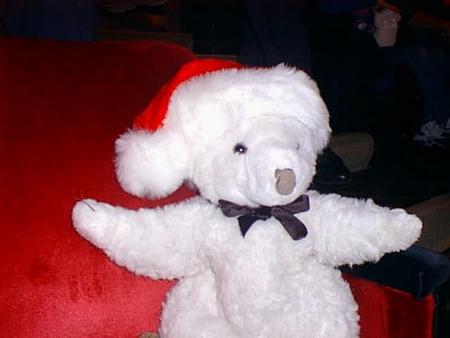 Perry's Santa Hat
I looked in the mirror and smiled. Miss Cynthia had given me a Santa hat! Now I was sure to find my special Santa. I tossed my head in front of the mirror, just to watch the big fuzzy ball bobble on the end of my Santa hat.
At last! Miss Cynthia picked me up. We were on our way to the show!
Radio City Music Hall is a very old, very famous theatre in New York City. Each Christmas, Radio City presents a special show, the Christmas Spectacular. There are singers and dancers and actors.
There is a special group of dancers, called the Radio City Music Hall Rockettes. They are all beautiful young women who dance in a very special way: all together in a line! Every Rockette does the same movement as every other Rockette. It is very exciting!
There it was! A giant red lighted sign marked the theatre: "Radio City Music Hall". I could tell we were getting close, even without the sign. There were so many people! Everyone was laughing and smiling as they crowded to the theatre doors.
Inside, I was amazed! The lobby was so big! It was decorated in gold and was so very beautiful. There were singers and musicians performing Christmas songs. Miss Cynthia and I climbed the steps to the second floor, so Doctor Steve could take our picture. He could barely see little Perry Bear, we were so high!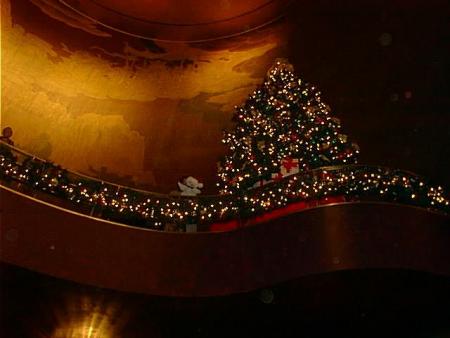 In the Lobby at Radio City Music Hall
We came to our seats. Below us, the theatre spread out before our eyes. It was huge! I turned to Miss Cynthia. "I think there must be 200 people here!" I said. Miss Cynthia laughed. "Perry, there are almost six thousand people in this hall!" Six thousand? My goodness, I'd never seen so many people in one place before.
No time to think any more! The show was beginning. Look! I saw Santa Claus! He was singing and dancing. Was he my special Santa? I thought so, but he was very far away.
I sat back to enjoy the show. There were so many things to see! Santa danced, and then came my favorite part. It was the story of the Nutcracker, but the ballet was danced entirely by teddy bears!
The Rockettes came on stage dressed as toy soldiers. There was even a Living Nativity scene, with Mary and Joseph and the Wise Men and the Shepherds. Oh, and real sheep, a donkey, and three camels!
Miss Cynthia says if you want to see photographs of the exciting performance, ask your parents to go to this address on the World Wide Web: Radio City Christmas Show
When I left the theatre, I was dazzled. Such kicking and singing and dancing! I wanted to dance, too, and I wiggled and rocked in Miss Cynthia's arms. I was moving in time to the music as we walked along the crowded sidewalk.
Suddenly, someone tapped on Miss Cynthia's shoulder. It was a young man with a lilting, musical accent. "Here," he said to me, "you dropped your hat!" It was my Santa hat! I was dancing so hard and so happily that I didn't even notice what had happened to my hat!
"Perry Bear," Miss Cynthia said, "Christmas comes everywhere but especially to New York City!" I nodded. It was so nice of that young man to help me with my hat.
Now, if I could only find my special Santa and ask him to visit the bear family!
Your bear friend,
Perry Bear Ewer