Teddy bears love a good story! One of my favorite books is Flat Stanley, by Jeff Brown.
It's even more fun when the story comes true. Meet my friend, Flat Paul. He is visiting me from his home in the state of Georgia.
Flat Paul is teaching me about Georgia. I am helping him learn more about my home in Washington state.
Flat Paul is writing his adventures. Click on the links below to read about his visit:
Flat Paul Visits The Tri-City Herald
Flat Paul Visits St. Joseph's School
New Flat Friends at Badger Mountain School
Would you like to send a Flat Child to a friend far away? Here's how:
Sample Flat Stanley Project letter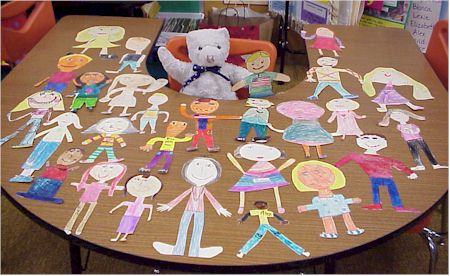 Perry Bear and Flat Paul meet new Flat Friends
from Badger Mountain School