Dear bear friends:
It's early morning, and I am typing very quietly. Miss Cynthia is sleeping. We are in New York City!
It was a long, hard day. Early in the morning, we climbed on an airplane in the Tri-Cities, and by dinner time, we were in New York City!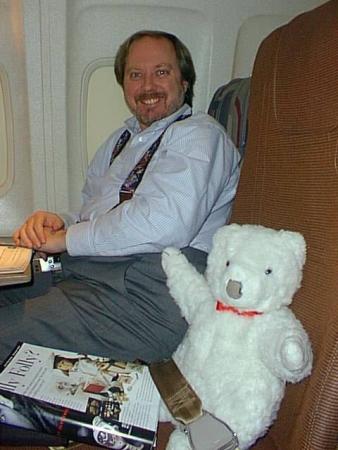 Perry Rides On A Plane
I like riding on airplanes! You have to sit quietly in your seat. Don't forget to buckle your seatbelt! The flight attendants bring nice snacks and delicious drinks. Miss Cynthia allowed me to have a soda. The bubbles tickled my nose!
Because it is close to Christmas vacation, many children were traveling. I made friends with everyone. Most people were surprised to meet a traveling teddy bear, but everyone was very kind.
It was dark when we arrived at LaGuardia airport, near New York City. Surprise! There was a jolly, friendly-looking man holding a sign that said, "Ewer". Doctor Steve was attending a doctor meeting, so they had sent a nice man to drive us to our hotel. He introduced himself as Mister Harry Limo - and told us he'd be right back. "Look for the charcoal stretch!" he said.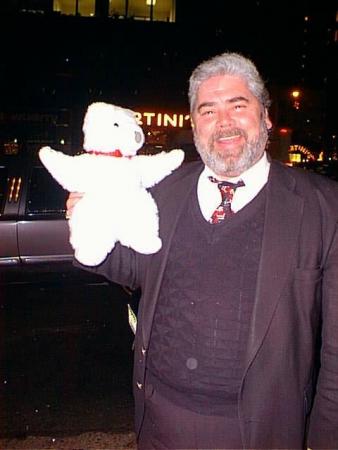 Perry Meets Harry Limo
I looked at Miss Cynthia, puzzled. "What is a 'charcoal stretch'?" I asked. She laughed and ruffled my fur. "You'll see, Perry!" she said.
I did see. And see, and see, and see! A "stretch limosine" is a very long car. It is made for driving people here and there - but doing it very, very comfortably. Here came Mister Harry Limo's stretch limosine. It was the longest car I'd ever seen!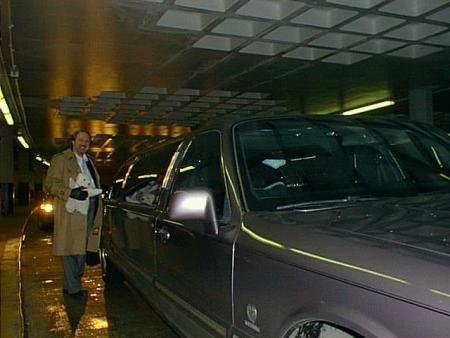 Perry's Stretch Limo
Mister Harry opened the door, and we tumbled inside. What a car! It was as big as a room inside, with soft, comfortable leather seats. I understood the "stretch" part as soon as Miss Cynthia and Doctor Steve sighed and stuck their feet straight out from their seat. Aaaaahhh! That felt so good, after sitting on airplanes all day!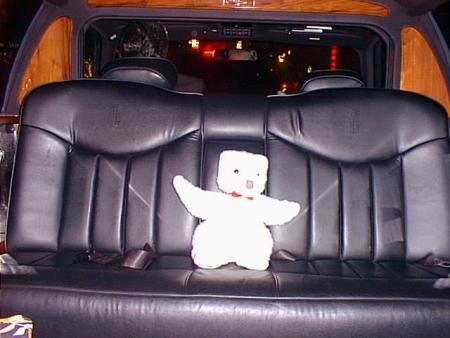 Perry Stretches Out
I bounced all around the beautiful car. The seats were made of leather and smelled oh! so nice. I began to explore all the wonderful wooden cabinets on the side of the car. This one held glasses, and napkins. Look! This one held more soda - but I didn't want any more bubbles in my nose.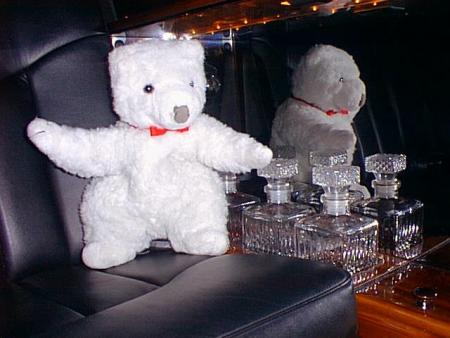 Perry Finds Some Soda
Doctor Steve said, "Watch, Perry!" He pushed a little button in a control panel on the ceiling - and a cabinet door opened automatically. Inside, there was a little television! I was so surprised, I tumbled off the seat onto the floor. Doctor Steve and Miss Cynthia laughed as they helped me up and brushed me off.
Perry's Limo Television
It was fun to watch the scenery go by from the beautiful car. We crossed a giant bridge, and suddenly, we were in Manhattan - the heart of New York City. Doctor Steve pointed out the familiar landmarks to me as we passed. The Empire State Building was decorated with Christmas lights.
Too soon, we arrived at our hotel. Mister Harry helped us out. I looked around on the sidewalk. Everything was decorated with beautiful holiday decorations and lights. Soon, we were in our very own room - on the 48th floor!
I like it here in New York City!
Your bear friend,
Perry Bear Ewer