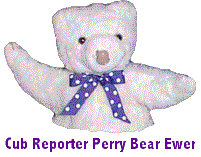 Hello, bear friends!
I have an exciting job. I am a cub reporter for my Web site, Perry Bear's Fun Page. I learn about people, places and things, and share them with you, my readers.
I cover many interesting stories. You can read them here! I hope you enjoy these stories:
Meet Cub Reporter Perry Bear Ewer
Interview our traveling teddy in his Tokyo hotel room.
On the Trail of Lewis and Clark
Perry follows the Corps of Discovery through the Mid-Columbia region of Washington state.
Who Was First To The North Pole?
Cub Reporter Perry examines the history of Polar exploration.
Perry's Glacier Adventure
Join Perry on an exciting journey to an Alaskan Glacier.
Meet Flat Paul
Perry plays host to a "flat child" from the state of Georgia.