Dear bear friends:
It was cold and brisk and breezy in New York City this morning. Before we left our hotel, Miss Cynthia wrapped me in a nice warm scarf. Even through a polar bear's fur, I could feel the chill wind as it blew around and between the tall buildings.
We were going shopping! "Perry," said Miss Cynthia as we spun through the revolving hotel door, "there's no place like New York City for Christmas shopping!" I waved to the doorman with the tall, tall hat. How did he keep his hat on in all this wind?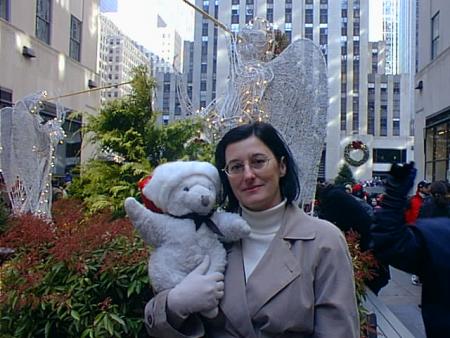 We walked down the streets of Manhattan. Everywhere I looked, I saw beautiful holiday decorations. There was the Cartier building, all four stories, wrapped in a giant bow. Giant Nutcrackers, 15 feet tall, stood in solemn rows before the Sony building. Even the fountains were decorated, one with the extra ornaments from a giant's Christmas tree.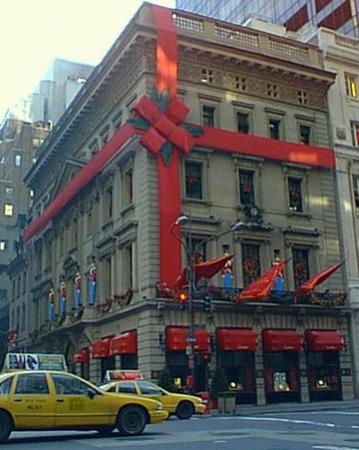 Store windows were full of magic. Christmas trees and dancing toys, fairy wonderlands and snowy winter scenes appeared in window after window after window. I wanted to look and look and look.
The people on the street were happy and jolly. Even New Yorkers like teddy bears! Many people smiled at me as we passed. Bright colored shopping bags bobbled at knee height among the crowd. We weren't the only shoppers that morning, not at all!
I loved watching the people and the buildings and the windows and the decorations but I didn't like shopping nearly so much. I am only a little bear!
Miss Cynthia tried on dress after dress after dress. "What do you think of this one, Perry?" she asked. I mumbled an answer behind my paw. How could I tell her? That dress looked just like the last dress she tried on, and the one before that, and the one before that. I'm glad I have fur! That way, I don't have to worry about clothes!
"Are we done yet?" I asked, as we rode the escalator down to the jewelry counter. "Not yet, silly Perry!" answered Miss Cynthia. "Now we have to find some accessories!" This was too much. Accessories? I yawned and stretched. When Miss Cynthia sat me on the jewelry counter so that she could try on a necklace, I went right to sleep!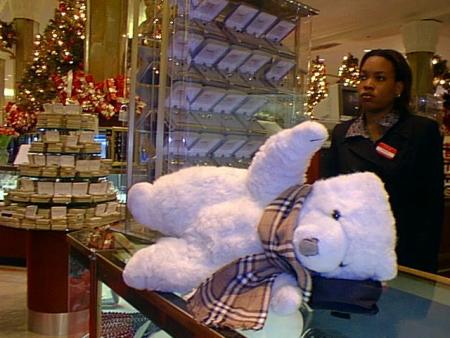 Perry Shops Till He Drops
The flash of the camera woke me. "Perry," said Miss Cynthia, smiling, "now we can truly say that we shopped till we dropped!"
Your bear friend,
Perry Bear Ewer
Perry's Christmas Adventure: