In 1999, Cub Reporter Perry Bear visited Alaska aboard a cruise ship. Here is a story from his travel adventures in Skagway, Alaska: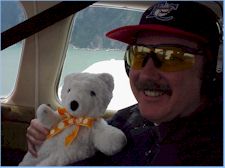 "See how narrow and deep the water is, Perry?" shouted our pilot over the noise of the tiny plane. "Look down! That's a fjord: a place where a glacier scooped out a U-shaped valley long ago. Now the valley covered by the sea--but you can tell a glacier was here by the shape!"
I squeezed against my seat belt to look out of the window. Below me, the small Alaskan town of Skagway disappeared as the little plane flew up and over a range of snow-covered mountains.
I was on a glacier adventure: a trip to see Davidson Glacier in the Tongass National Forest. Miss Cynthia, Doctor Steve and I would fly into the wilderness and land on a stony beach. Then we would hike into the forest until we reached a little lake. There, we would take a canoe to see Davidson Glacier up close. I bounced with excitement as I watched from the plane's window.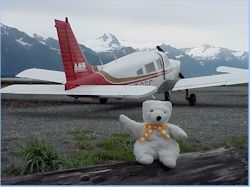 Five small planes, each carrying a pilot and five passengers, flew in a line over the deep green mountains.
In Alaska, flying is often the only way to travel! Many Alaskan towns can be reached only by ship or by plane.
"More Alaskan families own small planes than in any other state, Perry Bear!" said our pilot.
One by one, the planes landed on a short, rocky stretch of beach. Soon, we were standing on the beach, feeling the cold, brisk breeze of an Alaskan summer day. Before we could begin our hike, we would need to put on warm clothing and waterproof boots.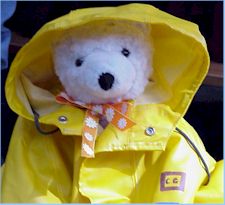 Everyone lined up to try on parkas and boots. "Oh, dear," said Miss Cynthia, "this will never do!" All the parkas and boots were too big for me!
Quickly, Miss Cynthia fashioned a little pack for me to ride in, and strapped it around her waist. I would stay warm and dry on the hike to the glacier.
[ Next Page ]