Dear bear friends:
It was our last day in New York City. Once again, we were walking the streets of Manhattan, enjoying the holiday fun. Giant nutcrackers lined the boulevard. Merry musicians played and sang.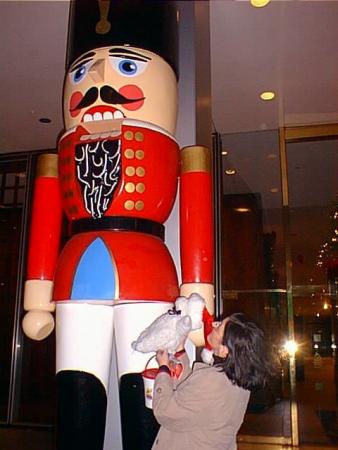 Nutcrackers On Parade
But where was Santa? I'd looked and I'd looked, but I hadn't found my special Santa Claus. How could I return home? The bear family was counting on me!
Miss Cynthia noticed my sad face. "Perry," she asked, "what's wrong?"
"I thought I would see Santa Claus in New York City," I said. "Miss Cynthia, the bears are counting on me to tell Santa how good we've been! I have a list, and everything! I can't go home without seeing Santa!"
"My goodness, Perry," said Miss Cynthia, "of course you must see Santa! Why didn't you tell me?"
I looked down at the ground. "I wanted to find Santa all by myself!", I said. "How can I be a reporter if I can't even find Santa Claus?"
Miss Cynthia ruffled my fur. "Perry Bear," she said, "I think I know where Santa can be found. Shall we go see him?"
"You know where Santa is? The Santa from the parade?" I asked. New hope filled my heart. "Can we go? Can we go now? I have to ask Santa to visit the bear family! I have to tell him how good we've been this year! I have to give him my list!"
"Okay, Perry," laughed Miss Cynthia, "we will go see Santa right now!"
Oh, I was a happy little bear! We walked down more busy streets. We were on our way to find Santa Claus!
Soon, we stood before a very familiar building. Why, it was the same building I saw in the parade! I was so happy!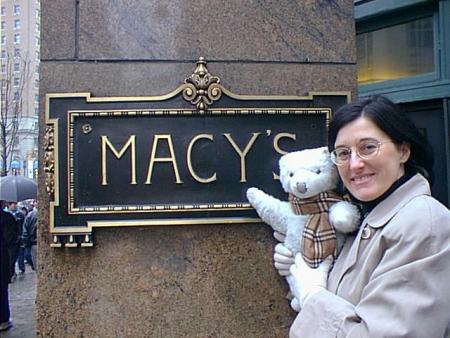 Perry Finds The Right Place
"Look down, Perry," said Miss Cynthia. I did - and there it was! The street was painted with a parade picture. It was the place where the parade's dancers had danced, where the singers had sung, where the bands had marched. We were here!
Inside, the store was full of happy shoppers, packed tightly together around the counters. I craned my neck, looking for Santa. Where was he?
Miss Cynthia knew where to go. Up the escalators! Up and up and up and up, all the way to the eighth floor. We floated upward on the last escalator. I held my breath. Would Santa really be there? Would I get to see him? Would I get to talk to him?
There it was! Not just Santa, but a whole Santa village. I bounced up and down in Miss Cynthia's arms. Here was Santa's workshop, his candy factory, his post office. We were here! We were here! I could hardly stand still!
There was a line of children waiting to see Santa. Miss Cynthia and I took our place at the back of the line. I was bursting with excitement. I didn't care how long we had to wait, I was going to see Santa Claus!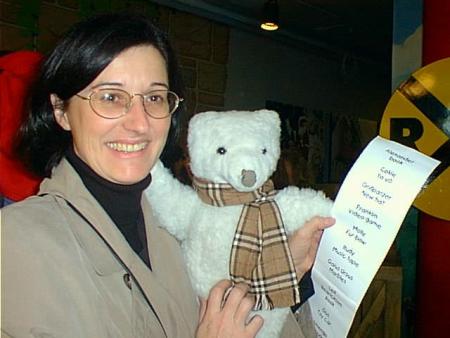 Perry Waits In Line
As we waited, we passed through Santa's village. Oh, my, it was so beautiful. Children helped Santa Claus by pressing buttons to operate special machinery. This machine made cookies. That machine sorted the mail. I helped, too!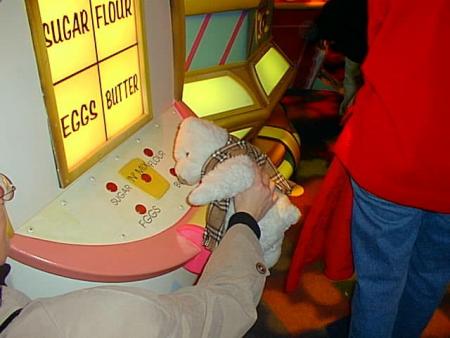 Perry Helps Santa Make Cookies
We were almost there. I could scarcely breathe. I had my list from all the bears. What would I say? I practiced my little speech in Miss Cynthia's arms: "Hello, Santa! Would you please visit the Ewer bear family? We bears have all been very, very good this year!"
"Haven't you forgotten something, Perry?" asked Miss Cynthia.
Forgotten? What could I have forgotten? I looked at Miss Cynthia, puzzled.
"Perry, where are your manners?" she said.
Oh! Now I remembered! I should have added the magic words, "Thank you!" I practiced again: "Hello, Santa! Would you please visit the Ewer bear family? We bears have all been very, very good this year. THANK YOU!" Miss Cynthia nodded approvingly.
Goodness! We were at the head of the line. I would see Santa next! My heart flopped and my tummy thunked and my knees knocked. I clung tightly to my list - and to Miss Cynthia.
A kindly elf greeted us. He showed us the way to Santa's house. The door opened. There he was! It was really, truly, absolutely my special Santa.
"Santa, this is Perry Bear Ewer." Miss Cynthia said, as she placed me on Santa's lap. Oh my goodness! I was sitting on Santa's lap!
I opened my mouth, but nothing came out! All I could see was Santa's beard. It was so big! His suit was so very red! Santa's face was very, very kind - but I had forgotten what to say!
"Uh, er, hmmm," I said. I tried again, clearing my throat. "Hello, Santa." I said, very softly. What came next? Oh, no! I couldn't remember!
I handed Santa our list. I looked up into his face. He smiled at me, and patted my head. Miss Cynthia snapped my picture, and it was time to go.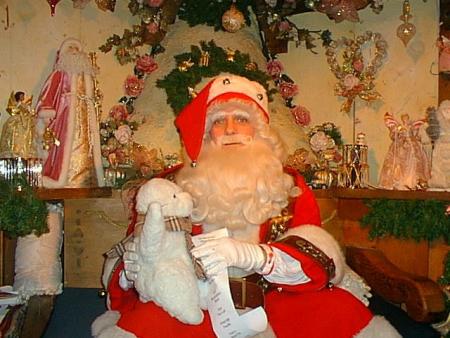 Perry Meets Santa
"Say good-bye to Santa, Perry" said Miss Cynthia as we walked out the door. I managed a tiny wave with my paw.
I had met Santa - but I had failed. I hadn't been able to talk, to tell him about the bear family. I hadn't remembered to tell Santa how good we'd all been this year.
Poor Perry Forgot What To Say!
I rested my head on Miss Cynthia's shoulder as we walked from the store. The tears fell fast and thick, rolling off my fur. Would there be any Christmas for the bear family this year?
Your bear friend,
Perry Bear Ewer